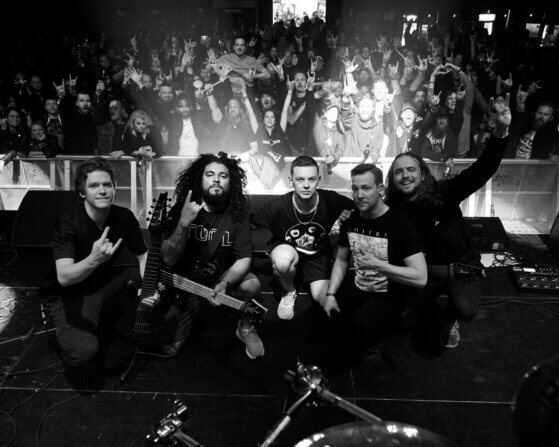 Marcus Johansson/Guitar –  Philip Elias/Bass – Dennis Sandberg Nilsson/Drums – Daniel Håkansson/Vocals – Julius Dellås/Guitar

Limbo is a five-piece progressive metal outfit from Sweden drawing inspiration from a wide variety of genres and artists. Following several demos, they made their addition to the lineup of Swedish progressive metal full-lengths in 2018 with their self-titled debut album. Working together with producer Arnold Lindberg of Sound Industry Gbg/Nobelstreet Studios (In Flames, Hammerfall, Evergrey), the album delves deep into progressive metal elements with tracks such as Occam's Razor, Oxymoron and With Eyes Wide Shut.
Teaming up with Adam Janzi, drummer of the Danish-Swedish band VOLA, they extended their sound further with the release of A Thousand Windows in 2020. Produced together with Robert Kukla of Obsidian Recording Studios, housing the 2nd control room of Studio Fredman (Opeth, At The Gates, In Flames) and with mixing & mastering made by Heavy Music Awards-winner Henrik Udd, the track provides a glimpse of what is yet to come.
Limbo consists of guitarists and founding members Marcus Douglas Johansson and Julius Dellås, bass guitarist Philip Elias, lead vocalist Daniel Håkansson and drummer Dennis Sandberg Nilsson.
PRESS
»The Circle Pit: A Thousand Windows Article [2020]«
»The Progspace: A Thousand Windows Premiere [2020]«
»GigRadar Interview [2020]«
»The Circle Pit: Self-titled Debut Album Review [2018]«
LIVE PERFORMANCE